While on your honeymoon, you might want to take part in romantic and fun adventures like taking a sunset cruise or going snorkeling.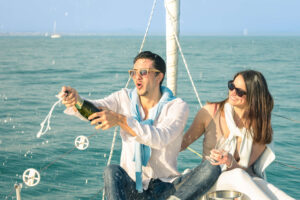 Your honeymoon is a romantic occasion, and spending it doing some of the things you both love, like taking a sunset cruise, can make for a magical moment. While in Cabo, you can relax on the beach or go out and explore. Here are some of the things that you can do while honeymooning in Cabo.
Ride ATVs
If you and your significant other are adventurous, you can go out and rent ATVs to ride around Cabo. Explore some of the areas outside your resort and see the true beauty of the city, beaches, and woods.
Renting a boat is an adventure that also comes with more onboard. While on the boat, you can bask in the sun or take a dip in the water as you snorkel and look at the bright-colored fish around you.
Imagine you and your significant other, sailing on crystal clear blue water as the sun sets over the water ahead of you, leaving behind lovely shades of yellow and orange. You hold onto your loved one as you both enjoy the view from the water. You can do all this while enjoying a cold beverage on a sunset cruise.
Some people might want to take part in a more once-in-a-lifetime experience while on their honeymoon, and when it comes to whale watching, there's no better place to do it. You can rent a boat to go out onto the water and spot some of the fantastic creatures swimming around you.
To reserve your sunset cruise or another kind of private boat adventure in Cabo San Lucas, B.C.S during your honeymoon, call Book Now Adventures at +1 909-328-0889 today!