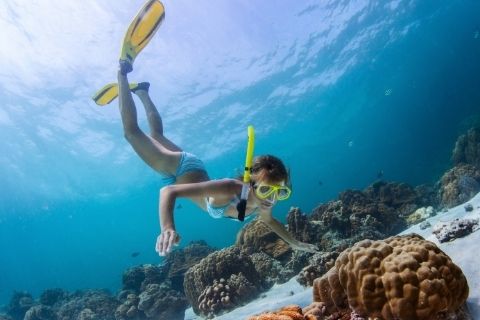 Snorkeling is more than putting on a snorkel and a diving mask and jumping into the water. There's nothing more exhilarating than exploring the ocean's depths and being amongst the beautiful wildlife. Before diving into the deep blue, your snorkel guide should tell you many safety precautions and techniques. However, stay ahead of the game with our quick guide to snorkeling safety for beginners.
Always Check Your Equipment 
Always check your equipment (mask, snorkel, fins, etc.) to ensure it fits. There's nothing worse than panicking if water seeps into your mask. Do a fit check when renting your equipment before diving into the ocean.
If you love the snorkeling experience and know you will become an avid snorkeler, it may be best to purchase your gear to ensure the best fit.
Stay Calm and Remember To Breathe
When checking if your equipment fits and works correctly, practice breathing through your snorkel and swimming in a shallow area before going into deeper water. By practicing, you're getting used to the feeling of using the snorkel to breathe.
Remember to stay calm, breathe, and enjoy your experience. Keep your snorkel afloat, and if water comes in, you can blow the water out.
Remember To Float and Glide
When you're snorkeling, you're doing more floating than swimming. Fold your arms across your chest or place them down at your sides and glide while directing yourself using your fins. Swim at a comfortable pace that allows you to breathe normally. If you're out of breath, you're most likely doing something incorrectly. We suggest using a floatation device to help you fully relax and enjoy this one-of-a-kind experience.
Choose the Best Location for Beginners
Do not attempt to snorkel in an area with strong currents. Instead, snorkel in areas with calm water. Snorkeling against strong currents increases the effort you must put into floating from one point to another. Choose a shallow yet exciting spot to begin your snorkel journey. Then, eventually, as you get comfortable, you can start snorkeling in deeper areas.
Relax and Take in the Experience
Snorkeling is a relaxing experience for almost anyone to enjoy! If you feel overwhelmed or panicked during your time, lift your head and float on your back. Also, remember to avoid touching any of the marine life you come across on your adventure. Instead, take in the unforgettable moments that unfold before you and bring home some fantastic memories.
Thank you for reading our quick guide to snorkeling safety for beginners. Book Now Adventures offers many aquatic excursions to enjoy. If you're looking into private snorkeling in Cabo San Lucas, Book Now Adventures provides a one-of-a-kind experience for people who want to explore the beautiful ocean and have fun out in the water!