When going fishing in Cabo, you want to be prepared so that you can make the most out of your trip.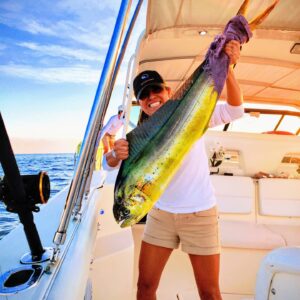 Imagine taking a fishing trip to get away from life's obligations while you are in Cabo San Lucas. Sitting on a boat, soaking up the sun, sipping on a cold beverage, and catching up with your family or friends as you get ready to catch some fish. There's nothing like it, but you should always be prepared with all your trip essentials.
What if you catch a big fish and your hook breaks. What if you don't have an extra hook? Even though taking a fishing trip with Book Now Adventures means that you won't have to bring any of your own equipment like rods and more, you can still bring a few extras that will help improve your experience.
Here are some essentials you should consider bringing with you:
Bobbers
These let you know that you have caught a fish. When the fish bites, the bobber will sink. There are many different kinds of bobbers to choose from, so finding one that you like and works for you should be simple.
Sinkers
The sinker is what acts as a weight for the hook and the worm. It is what helps the hook and the worm sink deep into the water. Without it, the hook and the worm aren't heavy enough and won't really go anywhere.
Plastic Worms
These are especially essential for those who don't like to use live bait. They have different kinds of plastic worms that vary in size and color.
Cabo San Lucas has some of the most amazing fish swimming in their bright blue waters. It is one of the most popular fishing locations in the world. Taking a fishing trip while in Cabo is the ideal way to relax and spend your vacation.
To schedule your next fishing trip in Cabo San Lucas, B.C.S, call us at +1 909-328-0889.