If This Is Your First-Time Paddle Boarding, You May Want to Familiarize Yourself with Some of These Important Tips for Beginners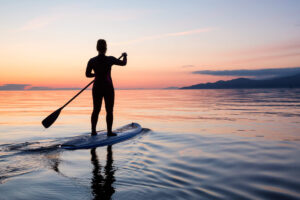 If you are looking for a fun, yet relaxing, way to enjoy your time in Mexico, paddle boarding is an activity you can't miss out on, especially while onboard a private charter. It is a way that you can enjoy the open water without having to swim. It is a spin on surfing, but in this case, you are standing on a board and you use a paddle to maneuver yourself while on the water. It is a sport as well as a fun activity for the whole family. However, if you are a beginner, there are some important tips that you should keep in mind.
You know what they say – "Safety First". It is something you can't forget, especially when engaging in this kind of activity. A leash is generally attached from the board itself to your ankle or calf, and it can not only help you keep track of the board when you fall off, but it can also save you when you get tired and if you encounter harsh weather conditions. Getting one for your paddle is also a smart move so you don't have to swim for it each time.
Having the right gear when paddle boarding is crucial. It will keep you safe and ensure that you are enjoying yourself to the max. You want to make sure that your board is wide enough, your paddle is long enough, and that your suit fits right. Don't worry, all of your gear will be provided by us at Book Now Adventures.
Use Correct Paddling Techniques
The technique is important for every sport and activity. While on the board, it is important to engage your core and stay balanced. Be mindful of the direction of the wind and take all of the safety precautions seriously. Our team in Cabo will be able to teach you some basic paddle boarding techniques on-site before you dive in.
If you are interested in renting a yacht to go paddle boarding, call us now at 1 909 418-4533!