Stay prepared for your whale watching adventure.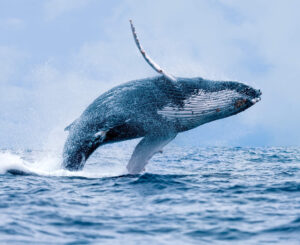 In Cabo San Lucas, you can discover many beauties of the Baka Peninsula, one of which is by going on a whale watching tour. Between December and March, people can see some of the most active whales up close when renting a private boat.
An Up-Close Adventure
Getting up close and witnessing these amazing animals will be something to remember for a lifetime. When you're on your tour, you'll have the chance to also learn about these animals and even get tips on how to make your photos with these creatures that much better. While up close, you'll even be able to hear the many relaxing sounds of the whales as they communicate.
From December to March, humpback whales will be the most active as they migrate from 6,000 miles away from the Bering Sea in Alaska to the warm waters of the Baja Peninsula. Mother whales, along with their calves, will grow and start to learn various survival skills. During this time, they'll rise to the surface of the water. To easily spot them, look for spouting water or even whales jumping out of the water (breaching). During your tour, you can also get up closer by going to a nearby calving area.
What to Bring
It's important to be prepared when you go on your whale watching tour so that you have all of the essentials. Most tours last around 2.5 to 3 hours, and the cost of the tour includes specific things like life jackets, light snacks, beverages, and more.
If you want to take your own photos, make sure to bring your own camera. Aside from this, bringing sunglasses, sunscreen, your own bottled water, and even a hat to protect you from the sun can be crucial.
To schedule your whale watching tour in Cabo San Lucas, B.C.S, call Book Now Adventures at +1 909-328-0889 today!