Fishing Is a Sport and an Activity That Can Be Done Year-Round. Find out Some of the Best Times to Go on a Fishing Charter While You Are in Cabo! 
Fishing is an activity that many people enjoy to take part in and the good thing about vacationing in Cabo is that there is always a season with a hot spot for a certain type of fish. All you have to do is embark on a fishing charter and see what you can catch. Here is what kind of fish you can snag during each season.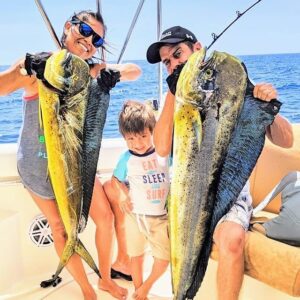 Springtime Fishing
In the spring, the weather is not hot, but it is not cold either. This is the perfect time to catch swordfish, yellowtail, roosterfish, snappers, groupers, jack crevalle, and even striped marlin. Cabo is known as the Marlin Capital of the World because of its great chance to catch this type of fish all year-round. 
Summertime Fishing
Of course, this season is the hottest which makes renting a cheap fishing boat and spending the day out on the water an ideal way to enjoy your trip to Cabo. Not only can you catch wahoo, tuna, roosterfish, and dorado, but deep-sea fishing is also popular for blue and black marlin. 
Fall Fishing
Fall weather is a bit cooler, but in Cabo San Lucas, the peak vacationing season is just beginning. During this time, you will be able to catch both big and small fish. Those fish range from yellowfin tuna to wahoo, sierra mackerel, dorado, mako shark, blue and black marlin. If you get lucky, the yellowfin tuna and swordfish might just be your biggest catch yet. They can get as big as a few hundred pounds. 
Wintertime Fishing
Many fishermen consider this time a bit challenging from the rest, but when onboard a fishing tour with Book Now Adventures, you will have nothing to worry about. You can catch yellowfin tuna, swordfish, mako shark, sierra mackerel, and spot striped marlin.
If you are ready to schedule your fishing charter while you are in Cabo, make sure to call us today at +1 (909) 418-4533!