Fishing Is Something That Can Be Done Year-Round in Cabo, but Here's What You Can Expect When Going in the Winter.  
Many people vacation in Cabo San Lucas in the winter. Whether it's because of their need to get away from the cold temperatures, a simple vacation, a honeymoon, or a fun fishing trip, the options for adventure are endless. If you're wondering what you might find while out on the water in the Marlin Capital of the World, we can help.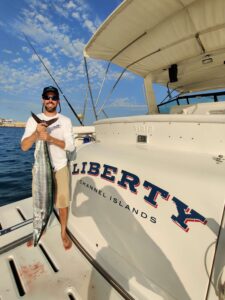 The Best Fishing of the Year
Fishing in Cabo San Lucas in December, and in the winter, is when you'll score some of the most impressive Marlin on your fishing line. Aside from Marlin, you'll be lucky to get some of the other fish to bite on your line, too.
Marlin: December is one of the prime months for both Striped and Blue Marlin. It's the peak season for Striped Marlin and Blue Marlin is also a solid catch. Black Marlin might also be a likely catch for most people.
Dorado: The winter is another solid month for Dorado. They happen to be one of the most sought-after fish of all.
Yellowfin Tuna: Cabo San Lucas has some of the record-breaking catches of Yellowfin Tuna – one that has weighed in at over 400 pounds. They're a popular catch in the winter and December is right. In the middle of peak season.
Winter Weather in Cabo
Even in the winter, you'll find that the weather in Cabo San Lucas is favorable, especially for a fishing trip. The weather is mild and they'll likely be a small chance of precipitation. Most winters are calm in Cabo which makes great weather to get out on a boat to fish.
Whether you are set on catching Marlin, Yellowfin Tuna, or Dorado, your chances of catching a fish are great in the winter.
If you're interested in scheduling your fishing trip in Cabo San Lucas, B.C.S, call Book Now Adventures by dialing +1 909-328-0889 now!