If you and your loved ones are planning to go on a fishing trip, you're probably looking for a boat rental company that can provide you with the best possible sea vessel for your adventure. Renting the right boat is definitely important, but remember that it's not the only thing that you must do! To have a fun and memorable trip, you must also ensure that you can bring the essentials with you, including the following:
Sunscreen 
Catching fish requires you to spend several hours under the heat of the sun. Because of this, you need to ensure that you'll bring along a bottle of sunblock that's SPF 30 or higher. Apply it on your face, neck, ears, hands, and other exposed skin to avoid getting sunburn and make sure to reapply regularly to ensure you're always protected.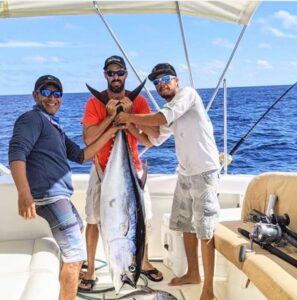 Hat and Jacket
You'll never really know what the weather would be like during your trip. So, it's best to bring along several items that will help you face any type of weather. Hats and scarves, for example, will protect your face and neck when the sun is out in full force, while a jacket can help you stay warm when it gets rainy and chilly.
Protective Eyewear 
Fishing hooks and other types of tackle can have sharp, pointy ends, and they can cause significant damage when they get near your eyes. To protect yourself from eye damage, make sure to wear safety glasses or any other kind of protective eyewear during your trip. It might feel awkward at first, but any seasoned angler will tell you that it's better to be safe than sorry!
Have a fun and successful fishing adventure by packing these items in your bag! If you need more tips, or if you're still searching for the ideal boat rental company to trust, make sure to contact Book Now Adventures. We are based in Cabo San Lucas, B.C.S, and we offer professional and high-quality boat rental services to our clients. Call us today at +1 909-328-0889!